Shoe Mould Making Materials Liquid Silicone Rubber
Model NO.: HY-6 silicon

Certifications: RoHS.SGS ISO9001:2000

Brand: Hong Ye Silicone Rubber

Application: Silicone Rubber for Shoe Mould

MOQ: 200 Kgs

Shelf Life: 1 Year

Sample: Available

Trademark: Hong Ye Silicone Rubber

Specification: RoHS, ISO-2001, SGS

Origin: Shenzhen

HS Code: 39100000

Model NO.: HY-6 silicon

Certifications: RoHS.SGS ISO9001:2000

Brand: Hong Ye Silicone Rubber

Application: Silicone Rubber for Shoe Mould

MOQ: 200 Kgs

Shelf Life: 1 Year

Sample: Available

Trademark: Hong Ye Silicone Rubber

Specification: RoHS, ISO-2001, SGS

Origin: Shenzhen

HS Code: 39100000

shoe mould making materials--liquid silicone rubber 

RTV-2 is mainly used for making molds for duplications for the industries such as Poly resin, epoxy poly-resin, plaster crafts, soap crafts, candles crafts, lighting, architectural decorations, embossed furnitures, plastic toys, gifts and stationeries, large statues.

 

Features of our RTV-2 are low viscosity, good fluidity, high tensile and tear strength, produced by molds can be used repeatedly, longer life expectancy.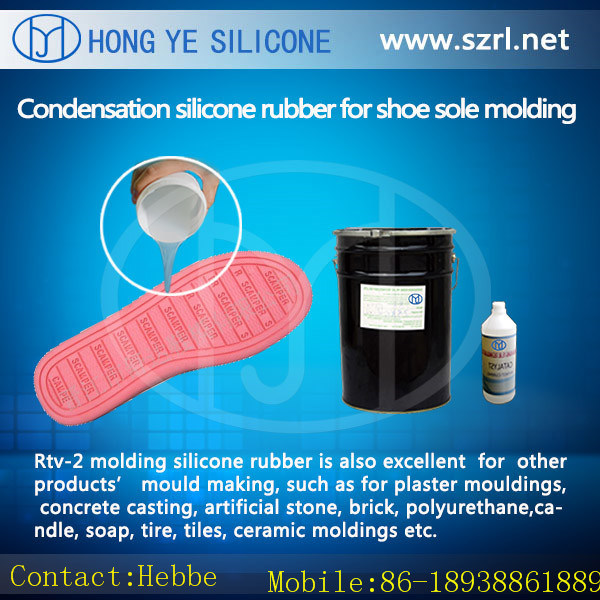 Operations  shoe mould making materials--liquid silicone rubber: 

(1) Mixing:encapsulant and potting compound silicon is a kind of flowing liquid and it contains two parts. Part A is a kind of white flowing liquid and part B is the curing agent. Remember to mix part A and part B completely, otherwise the silicon rubber will be partially solidified and this will give birth to difficulties in your final operation. What's more, the finished moulds will meet a short life. All of these will cause a waste of silicon rubber.

 

(2) Vacuum pumping: After finishing the first step, then go to the vacuum pumping . Usually, there will be some air bubbles in the mixture during the mixing process working. So after the first step after finishing handling of the original mold, we need come to the vacuum pumping process.This step is better for taking less than 3-5 minutes. Otherwise, it will cause cross linking reaction, and no more further steps will be available.

 

(3) Brushing cast or Perfusion Molding operation

a.Carefully wash the original mold , then dry it with an air gun. Then brush some release agent such as soap water, detergent,vaseline,liquid wax ,etc..

b. Evenly brush the mixed silicon rubber on the product which is covered with mold spray with a brush or a brush pen.

c. After the cross linking reaction (about 30 minutes), brush a second coat which can increase the tension and tear strength of the mold.

d. Cover a glass cloth on it after another 30 minutes of a second cross linking reaction, and use a brush pen or a brush to avoid any interstices.

e. Cover a third coat.

  

(Note on  rtv silicone printing mould making rubber: if you have high requirements for the tension and the tear strength for the mold, please repeat step c and step d. Hence, the finished silicone moulds will have a good quality and a longer life, which can help you save cost and increase production efficiency.)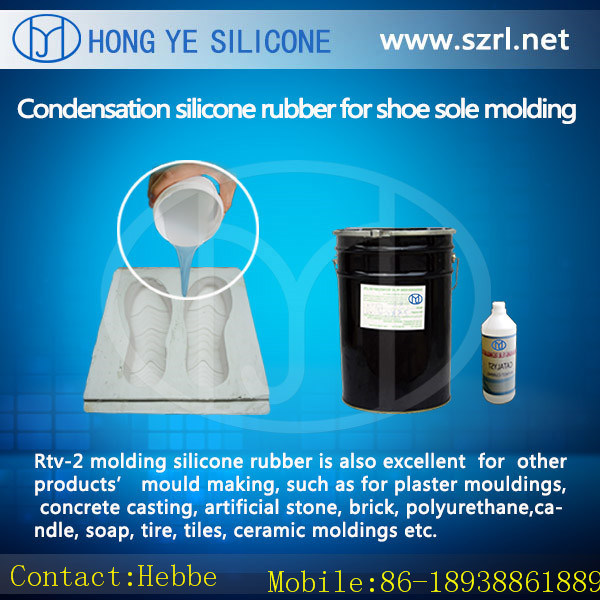 (4)Operations for the external mold encapsulant and potting compound silicon:

a. Make a square frame with four pieces of wooden boards or rubber plates, then place the product which is covered with the finished silicon rubber mould in the middle.

b. Slowly and evenly perfuse the gypsum into the square frame. Also you can brush the resin on the product which is covered with the finished silicon rubber mould with a brush or a brush pen. Repeat this process two or three time after the cross link reaction.

 

(5) Pouring moulding:

It is suitable for simple products with the smooth surface. Without any mold lines, which helps you save time and is easy for operation. Evenly and slowly perfuse the mixed silicone rubber into the square fram. After the cross linking reaction and the silicone rubber turns dry,you can take the products out. Thus, the mold has been done.

(Note:we usaully use soft silicone rubber to make molds by perfusing, which is easy for demoulding and will not damage the product in the silicone molds.)

 

Packaging, storage and transportation  rtv silicone printing mould making rubber

(1) The RTV-2 silicone rubber is packed with vacuumed thick PE bag inside,and iron barrel (tin) outside, packing in 5 kg, 25 kg , 200 kg.

Curing agent (catalyst, cross-linking agent or other additives) are packed with 1 kg, 25 kg plastic bottles or barrels . and the weight is 3-5% of total silicone.

(2) The product should be stored in a cool dry place, avoid the sun and rain, avoid to touch with acids, alkalis, salts and other compounds. The shelf life is one year from the date of production. For some models , after three months, the viscosity will increase, generally no effect for the normal use. If over the storage period, through the re-examination,it can still be used. Curing agent goes bad easily by absorbing moisture in the air and the quality will get effected, so it should be sealed for storage.

(3) The goods is NOT subject to IMDG except the curing agent.
 

Call Us Anytime With Questions About Your Application. 

More information , pls feel free to contact Ms Hebbe:
Tel:Â Â (00)Â 86-755-89948019

Mobile :86-18938861889

 

shoe mould making materials--liquid silicone rubber 

RTV-2 is mainly used for making molds for duplications for the industries such as Poly resin, epoxy poly-resin, plaster crafts, soap crafts, candles crafts, lighting, architectural decorations, embossed furnitures, plastic toys, gifts and stationeries, large statues.

 

Features of our RTV-2 are low viscosity, good fluidity, high tensile and tear strength, produced by molds can be used repeatedly, longer life expectancy.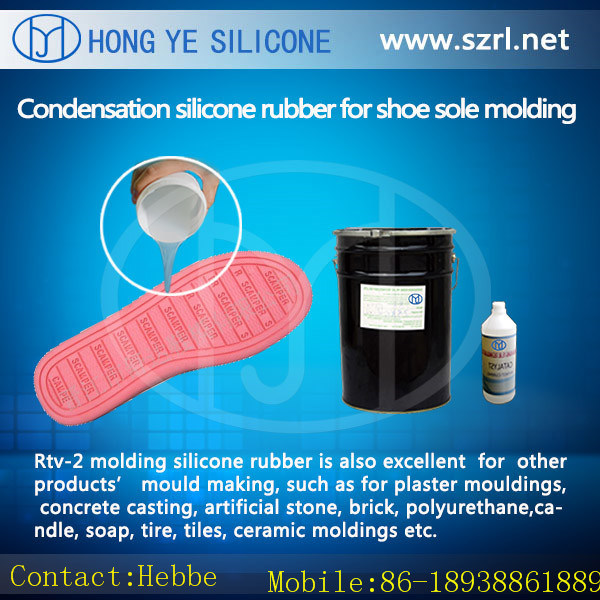 Operations  shoe mould making materials--liquid silicone rubber: 

(1) Mixing:encapsulant and potting compound silicon is a kind of flowing liquid and it contains two parts. Part A is a kind of white flowing liquid and part B is the curing agent. Remember to mix part A and part B completely, otherwise the silicon rubber will be partially solidified and this will give birth to difficulties in your final operation. What's more, the finished moulds will meet a short life. All of these will cause a waste of silicon rubber.

 

(2) Vacuum pumping: After finishing the first step, then go to the vacuum pumping . Usually, there will be some air bubbles in the mixture during the mixing process working. So after the first step after finishing handling of the original mold, we need come to the vacuum pumping process.This step is better for taking less than 3-5 minutes. Otherwise, it will cause cross linking reaction, and no more further steps will be available.

 

(3) Brushing cast or Perfusion Molding operation

a.Carefully wash the original mold , then dry it with an air gun. Then brush some release agent such as soap water, detergent,vaseline,liquid wax ,etc..

b. Evenly brush the mixed silicon rubber on the product which is covered with mold spray with a brush or a brush pen.

c. After the cross linking reaction (about 30 minutes), brush a second coat which can increase the tension and tear strength of the mold.

d. Cover a glass cloth on it after another 30 minutes of a second cross linking reaction, and use a brush pen or a brush to avoid any interstices.

e. Cover a third coat.

  

(Note on  rtv silicone printing mould making rubber: if you have high requirements for the tension and the tear strength for the mold, please repeat step c and step d. Hence, the finished silicone moulds will have a good quality and a longer life, which can help you save cost and increase production efficiency.)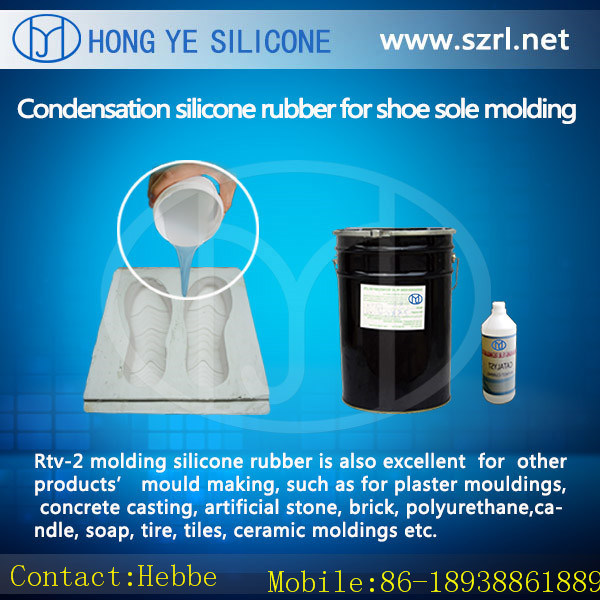 (4)Operations for the external mold encapsulant and potting compound silicon:

a. Make a square frame with four pieces of wooden boards or rubber plates, then place the product which is covered with the finished silicon rubber mould in the middle.

b. Slowly and evenly perfuse the gypsum into the square frame. Also you can brush the resin on the product which is covered with the finished silicon rubber mould with a brush or a brush pen. Repeat this process two or three time after the cross link reaction.

 

(5) Pouring moulding:

It is suitable for simple products with the smooth surface. Without any mold lines, which helps you save time and is easy for operation. Evenly and slowly perfuse the mixed silicone rubber into the square fram. After the cross linking reaction and the silicone rubber turns dry,you can take the products out. Thus, the mold has been done.

(Note:we usaully use soft silicone rubber to make molds by perfusing, which is easy for demoulding and will not damage the product in the silicone molds.)

 

Packaging, storage and transportation  rtv silicone printing mould making rubber

(1) The RTV-2 silicone rubber is packed with vacuumed thick PE bag inside,and iron barrel (tin) outside, packing in 5 kg, 25 kg , 200 kg.

Curing agent (catalyst, cross-linking agent or other additives) are packed with 1 kg, 25 kg plastic bottles or barrels . and the weight is 3-5% of total silicone.

(2) The product should be stored in a cool dry place, avoid the sun and rain, avoid to touch with acids, alkalis, salts and other compounds. The shelf life is one year from the date of production. For some models , after three months, the viscosity will increase, generally no effect for the normal use. If over the storage period, through the re-examination,it can still be used. Curing agent goes bad easily by absorbing moisture in the air and the quality will get effected, so it should be sealed for storage.

(3) The goods is NOT subject to IMDG except the curing agent.
 

Call Us Anytime With Questions About Your Application. 

More information , pls feel free to contact Ms Hebbe:
Tel:Â Â (00)Â 86-755-89948019

Mobile :86-18938861889

 

Round Ductile Manhole Cover is made of ductile; mainly both the cover and frame is in round condition, we make the manhole cover on BS EN124, Mainly our products are A15, B125, C250 and D400, sometimes also make it E600 and F900 in case of need. For A15, B125, C250 and D400 ductile manhole covers to be used in Green belt, Pavement, Auxiliary road, Main road and Express way. We make ductile manhole covers all by producing line, the quality is very good, and we warmly welcome customers all over the world to do business with us.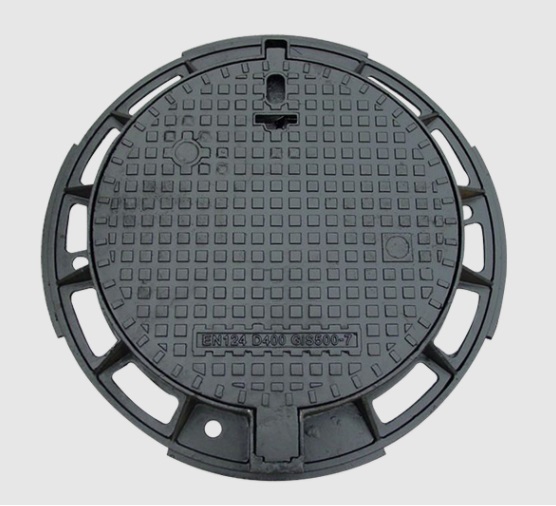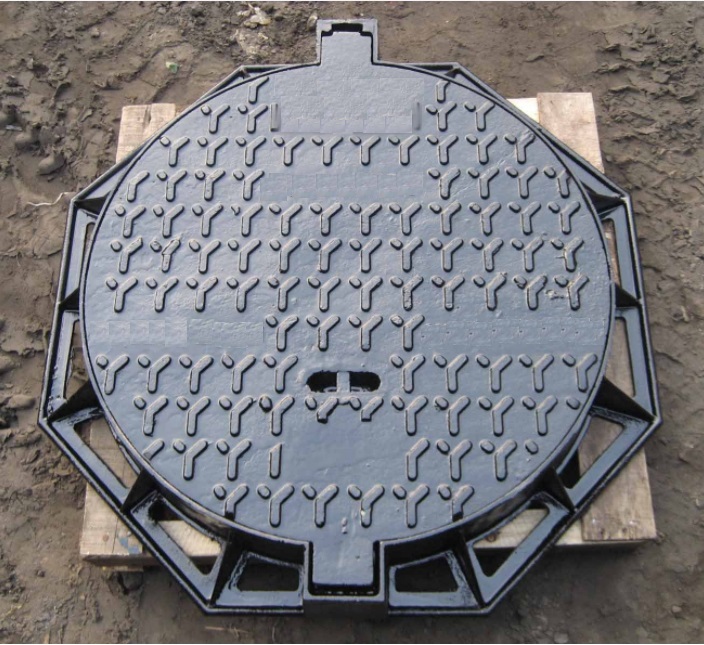 Ductile round manhole covers, Ductile round manhole covers D400, Ductile round manhole covers opening 600.

Zhoushan Runchun Import & Export Co., Ltd. , https://www.en124casting.com